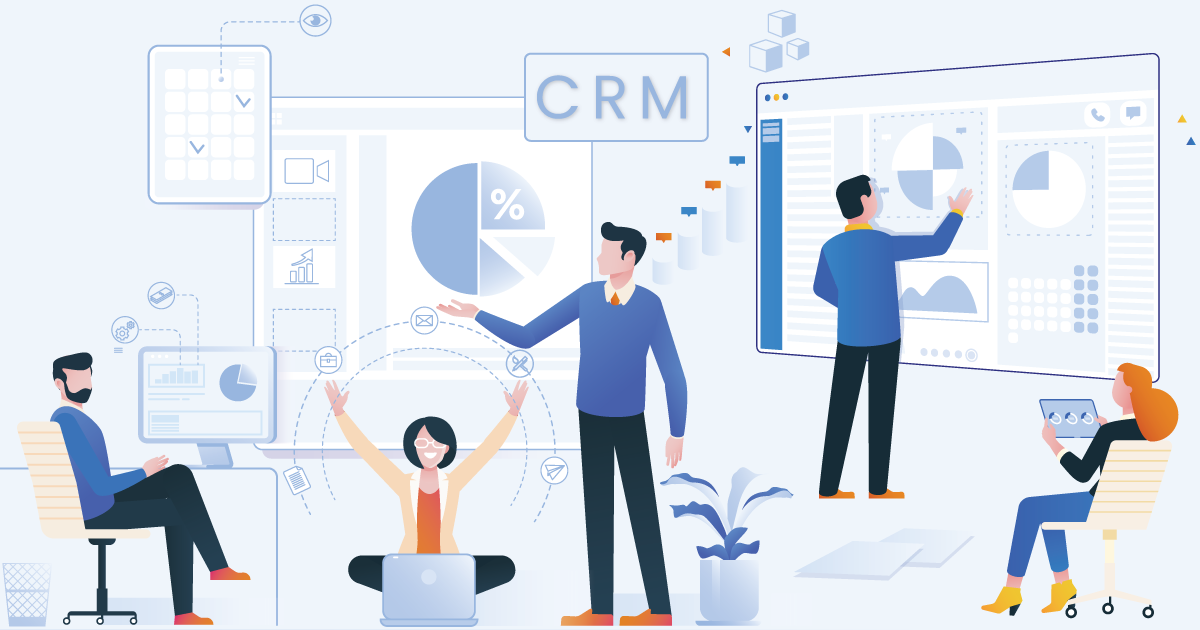 Businesses can increase their efficiency by using a customer relationship management system to help manage sales leads. As a company expands its reach, a CRM can help employees create a centralized platform for current and potential customers.
The ultimate goal for any entrepreneur is undoubtedly increasing and expanding their business. Just like gardeners use manual tools for landscaping and cultivation, a sales team needs tools to skyrocket business growth. One such tool is the customer relationship management system.
A Customer Relationship Management system (CRM) is a powerful tool to boost your sales and keep revenue flowing from your present customers, as well as generating new leads from the information generated by the system. This is because an efficient CRM will show you what your customers are interested in, their spending habits and other vital data that offers crucial marketing intelligence.
You can use CRM to boost your sales and grow your business:
1. Improve Your Customer Data
CRM offers a rich pool of data which can be combined with other data mined from social media sites in order to get to know your customer base better. You are able to see which of your customer's birthdays are coming up, where they live, what industry they're in…Any data you require to grow your business; you can acquire using the powerful features of your CRM system.
How will this help boost your sales?
Your sales team can use the data collected by your CRM system to send targeted communications to your customers, for example; a birthday offer. This can be sent to every customer whose birthday is coming up that month. Or, a location-specific offer can be sent to your customers living in a particular city. It's no good spending money on sending out emails to recipients that are the right age for your product. However, targeting the right people for your product or service will more likely result in a sale.
2. Analyse Customer Satisfaction
It is simple, if your customers are not satisfied, your product or service will not last long in the market. Your CRM can tell you which of your customers are most satisfied with your service and most engaged with your content and those who aren't.
How will this help boost your sales?
Knowing who your most satisfied customers are means that you can target these people for asked for referrals, testimonials and reviews. This will lead to more interest in your product and therefore boost your sales! Knowing which customers are less satisfied with your product or service means that your team can reach out to them and rectify any mistakes made. This will ensure that you don't lose them as a customer and they might even recommend your company due to your outstanding customer service, further increasing your sales.
3. Better Team Collaboration
CRM improves your team's operations by giving them the ability to save everything in one, central location. Your team can save details of every interaction they have with a prospect, meaning that any member of the team will see this during future interactions. This avoids any confusion regarding where the prospect is in the sales process or any hot leads slipping through the net.
Good CRM systems also allow your team to set each other tasks to complete. For example, if a call comes in from a prospect asking for a particular member of the team, you can set a task for that person to follow up with the prospect. This helps your team become more efficient and improves your customer service.
How will this help boost your sales?
Improving your team's processes will in turn improve the service they provide to your customers. Meaning existing customers will return time and time again. This will also improve their sales strategy because no lead will be missed, thanks to tasks and contact histories, therefore boosting your sales effectively.
4. Increase your Up sells
As customers, we've all been offered an up sell; travel insurance with a flight, fries and a drink with a burger or breakfast with your hotel stay. When we're already spending money, we're more likely to buy into the extras. CRM systems enable you to immediately present up sell offers to your customers that they are likely to be interested in.
Systems with automation features, like SaleStack CRM, allow you to send personalised up sell emails immediately or a couple of days after your customer makes a purchase. Knowing their purchase history enables you to target them with the right offer.
How will this help boost your sales?
Selling to existing customers is much easier than selling to prospective customers. Sending a new customer up sell offers will therefore give your sales a great boost and won't cost you any time thanks to automation!
5. Prioritise Your Hottest Leads
With your leads and sales pipeline within your CRM system, your sales team are able see which leads are closest to converting and which ones need some extra work.
How will this help boost your sales?
Instead of wasting time talking on the phone to leads that need further nurturing, your sales team can concentrate on the ones that are close to becoming customers. This speed up the sales process and will save you money as well as boosting your sales!
You can boost your sales using CRM. If you haven't already, why not take a free demo of our system which includes automation, lead scoring, email and SMS marketing and more. It's the only system you'll need to boost your sales and grow your business.