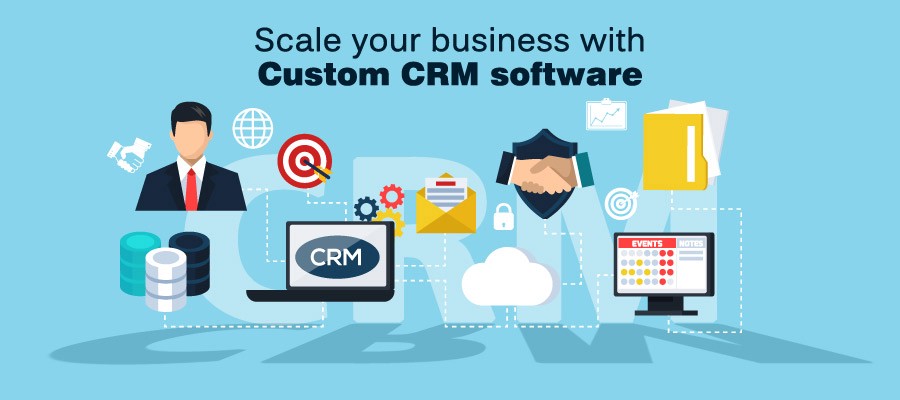 A system brings all this information into one cohesive unit. The customer's complete history with your business exists alongside a list of your deals; your emails, notes, and appointments live in one interface. We're talking about a goldmine of information available in one system, under one roof.
· Lead Management
Manages leads from prospecting to conversion. It lets you track sales activities, deals, and tasks and move them across sales stages. It also connects to contact management to let you view customer interactions and profiles in one window. Most CRM solutions allow you to customize the pipeline stages.
· Marketing Campaign
CRM's campaigns module allows you to create, track, and optimize your marketing initiatives. Marketing campaign goals can vary, from generating brand or promotion awareness, to obtaining new leads, converting leads to new sales, or encouraging existing clients to purchase more products or services.
· Organization
An organization is a customer account record for a customer or prospective customer. When a Lead is converted to an Opportunity, an Organization for the prospective customer is automatically created in the CRM system.
· Contact Management
Organizes customer data in a centralized location. Contact details, demographics, transactions, customer service interactions, and other customer data are easily saved and retrieved.
· Quotation
A Quote is a formal statement issued by seller to the prospective buyer, basically on a request for a quotation. It contains the detailed list of Products and Services, Prices and Taxes, Dates, Parties involved, Address information, Terms and Discounts.
· SMS Notification
Send Quick SMS to customers and also bulk SMS system integrated in CRM.
· Email System
Email system integrated in CRM and user can save Email Templates.
· Custom Print
Custom Print option available in Quote, Sales Invoice and Sales Order.
· Sales Order
Sales Order is an internal document generated within the company after the Purchase Order is received. It helps your sales team track all the Products or Services that should be manufactured, shipped etc according to the agreed prices and dates. Sales Order comprises Sales Order number, Purchase Order, Recurring Invoice, Billing and Shipping Address, Products or Services, Prices and Taxes etc.
· Product & Services
It is the act of offering paid assistance in a scheduled time frame to fulfil the requirement of the customer. Services module is very similar to Products module, except for Stock Information. Services are non-stock items and they do not support bundles (like Product bundles). Services have only non-stock attributes or fields.
· Invoice
Invoice can also be called as a Bill in simple words. It usually contains the Products or Services details, Prices and Taxes, Dates, Parties involved, Address information, Terms and Discounts, and payment methods.
· Vendor
A vendor is a person or organization that supplies Products or Services to your company. A vendor can also be a manufacturer or a re-seller.
· Purchase Order
A purchase order is a legal document handled over to a vendor to purchase Products or Services. It offers you a channel to explain your requirements and intentions explicitly. Purchase Orders comprise the purchase order number, vendor details, product or service details, terms and conditions, prices, etc.
· Tickets
In the CRM terminology, tickets are any kind of customer service requests as they occur after sales. The support functions help you to collect and sort customer requests, inquiries, and disturbances, problems etc. related to sold goods or services.
The support functions keep CRM users and customers informed on the status reached in respect to the response to customer's messages.
Sales staff and management can get a quick overview of support activities related to customers or products or both.
Tickets, also called as Cases, are post-sales support requests generated by your customers. It offers your sales team the flexibility to create, communicate, edit, and close the case after the right solution is delivered to your customers.
· Service Contract
Service Contract is an agreement between you and your customers to provide service on the product for a limited time period.
Service Contract is a negotiated agreement for the products rendered to your customers. As per the agreed contracts, your support centre is supposed to offer service for the product for an agreed period of time. It boosts the level of customer satisfaction and builds healthy trading relationships.
· FAQ's
User can save FAQ list for support system.
· Projects
This module can also be used independently without associating with Projects module. A Project Task can be assigned to a group or any individual user to accomplish the task within the specified timeline.
· Tasks
CRM lets you add, assign, and track actionable items and feed them into the sales pipeline. Tasks can be populated with customer data or updated with information.
· Project Milestones
Project Milestones determine the phase of great significance within project schedule. In real time scenario, like stones are placed beside roads starting the portion of journey has been completed, project milestones also indicate important achievements in project. It gives you an idea on how project is advancing.
· Users
Multiple Users supported system with manage own data.
· Dashboards
User wise Dashboard and User work history on Dashboard.
· Reporting
Consolidates streams of data in meaningful ways that help you to spot patterns, trends, behaviours, and other market insights. CRM solutions can also generate real-time data that makes reporting more timely and accurate.
· Activity Management
For quick future reference, it adds all vital customer-related e-mails in CRM. In addition, it also stores all the details of customer's call and meetings. In order to have a streamlined sales process, it manages daily tasks to the CRM users.
· Opportunity
Opportunity represents a sales opportunity. On qualifying a lead, create an Opportunity. Sales Stage field in the Opportunity is used to identify the progress of the Sale towards completion. Amount and Expected Close Date fields in an Opportunity drive the Sales Pipeline reports.